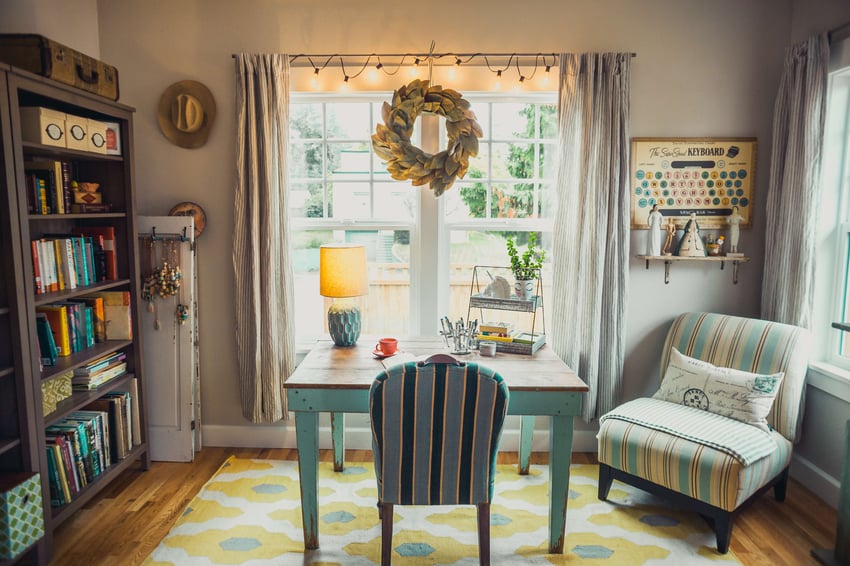 If you use a portion of your Des Moines home for your business, you may be eligible to claim a federal income tax deduction for a portion of your home expenses, such as rent or mortgage, utilities, insurance, and maintenance that relate to the business use of your home. Many small business owners can qualify for the home office deduction. Read below to see if you fit the general guidelines. For tax advice that is specific to you, always consult a qualified professional.
Simplified Calculation for 2013
Claiming the home office deduction has just become simpler. In the past, it has been necessary to calculate the percentage of your home's square footage used for the home office and to track and maintain records of the actual expenses you incur in connection with the business use of your home. Beginning in tax year 2013, however, the IRS is offering a simplified calculation method. Using this method, you can claim a standard rate of $5 per square foot of home office space up to a maximum of 300 square feet. Keep in mind, however, that simpler is not always better, and it may be in your interest to use the more complex calculation. Obtain advice from a tax professional who is familiar with your individual financial picture when deciding which method is best for you.
Who Can Take the Home Office Deduction?
There are two basic requirements for qualifying. One is that your home must be your principal place of business. The other is that you must use the space regularly and exclusively for business. You must meet both of these requirements to take the deduction, but both allow for some exceptions.
Principal Place of Business
This requirement is not as onerous as it may sound.
Your home is automatically considered your principal place of business for tax purposes if you perform administrative or management duties from home and have no other fixed location where you conduct these activities.
If you conduct business outside your home, you may qualify if you use your home "substantially and regularly" to conduct business. The IRS does not provide firm definitions for these terms, so get the advice of a tax professional if you are not sure whether your home office use meets the criteria.
Even if your home is not actually your principal place of business, you may still qualify for the deduction if you regularly meet clients, customers, or patients at your home.
If you use a free-standing structure, such as a studio, shop, garage, or barn, for business, you may take the deduction regardless of whether the structure is your principal business location.
Regular and Exclusive Use
The IRS does not clearly define the terms "regular and exclusive." If you are unsure whether your home meets these criteria, get the advice of a tax professional. Generally speaking:
"Regular" use means that you must use the portion of your home for which you are claiming the deduction on a continuing basis. Occasional or incidental use does not qualify.
"Exclusive" use means that you dedicate this portion of your home solely to business. If you also use the same space for personal activities, such as social gatherings or entertainment, you may not claim the deduction.
You may allocate a portion of a room for business use and conduct personal activities in a separate portion of the same room. Just make sure there is a clear division between the business and personal spaces and that your personal activities do not stray into the business space.
An exception to the exclusivity requirement applies when you regularly use a specific portion of your home to store inventory or samples. You may use this storage place for other purposes as well. You may not claim this exception if you have another business location outside of your home.
Boelman Shaw Capital Partners provides comprehensive tax and financial advice to our Des Moines area clients. Contact us today to discuss your eligibility for the 2013 home office deduction.
Material discussed herewith is meant for general illustration and/or informational purposes only, please note that individual situations can vary. Therefore, the information should be relied upon when coordinated with individual professional advice.