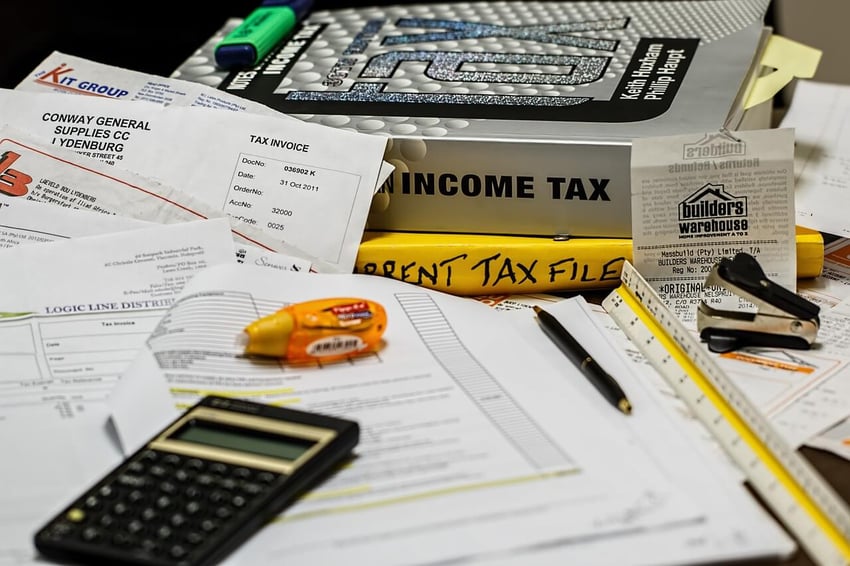 No one wants to pay more tax than they absolutely must. Careful, regular planning with a professional financial advisor will help you keep as much of your money as possible in your own hands. Talk with our experts for more detailed and personalized advice on minimizing your tax bill.
Maximize your tax deductions
Don't miss the opportunity to deduct all the expenses you can. Talk with a professional to be sure you are aware of all the possible deductions you can take, not only looking back over the past year during tax time, but also looking forward to the year ahead. Being aware of deductible donations and expenses ahead of time will help you take full advantage of them.
Keep careful records of your charitable contributions. Often, people try to estimate at the end of the year how much they donated to charity, but this is highly inadvisable. You can only deduct those expenses you can document. Those small non-cash donations (Goodwill, Salvation Army, etc.) can add up to considerable savings at tax time. Your stuff is probably worth more than you think, and contrary to popular belief, there is no limit to how much you can deduct. Keep your receipts from these donations, document exactly what you gave away, and save all of your receipts in a file for easy access at tax time. Follow this link for valuing donations: http://satruck.org/donation-value-guide.
Also keep and file receipts for all of the expenses you incur on behalf of your employer. Although subject to some limitations, you can deduct any miles or expenses for which your employer does not reimburse you (excluding ordinary commuting costs). The current mileage rate is $.56 per mile, so this can add up quickly.
Investment expenses such as management fees, custodial fees and research materials are tax deductible as well. Ask your advisor for a detailed list of these fees at tax time.
Received an IRS Letter – What to do?
Don't panic! Usually, these letters are simply requests for clarification on your return. Do not pay the amount due on the letter until your preparer has reviewed it for you. The letter will contain a large balance due that is calculated based on the worst possible outcome. Often, unreported stock sales are an issue. In that case, all the IRS knows is the sale amount, not what you paid for the stock or that you may have had a loss on the sale. Not only could a loss remove the balance due, it could create a refund.
If you are a Boelman Shaw client, we want to you to bring any IRS letter to us as soon as possible. We will review the letter and determine the best course of action. There is typically no additional cost for this service, as it is included in our fee for preparing your return.
If you are not a client of the firm, we would be happy to review your letter at no cost. Should you decide our services are necessary, we will make you aware of any fees prior to beginning our work. Give us a call or click the link attached to schedule an appointment.
Am I withholding enough?
Many factors go into determining how much tax you should withhold from paycheck. A job change, a life event such as marrying or having a child, or receiving an inheritance will affect the tax you will owe. If you are getting a large refund or had a surprising balance due at tax time, you should re-evaluate your withholding. Remember, the lower the number of exemptions you request, the higher the amount of tax that is withheld. You also need to consider your spouse's income deciding how much to withhold. In certain cases, you may need to withhold additional tax if you and your spouse have high-income jobs. How much tax you withhold is your decision. Your tax preparer can help you evaluate this at any time during the year.
Retirement tax considerations
The shift into retirement requires a shift in how you think about your taxes. Your income in retirement is or will be different than when you were working full time. If you do not have any tax withheld from your income, you will have to file quarterly estimates to pay your taxes in a timely manner.
What comprises this income (e.g. pension, investment income, social security, etc.) greatly influences the amount of tax that you will owe. The calculation by which your Social Security benefit is taxed is based on your overall income. If you have a high total income, the maximum amount of your Social Security that will be taxed is 85%. It is also possible that with a low total income, none of your Social Security income will be taxed.
Selling investment assets creates capital gains, which are taxed differently than ordinary income. Consult with one of our professional advisors to identify the most tax-efficient assets to sell each year to keep your tax bill as low as possible.
Consult with the tax planning experts at our Des Moines office to structure your retirement income in the most tax-efficient way possible. We are experts at retirement income planning and can help you today!
Material discussed herewith is meant for general illustration and/or informational purposes only, please note that individual situations can vary. Therefore, the information should be relied upon when coordinated with individual professional advice.